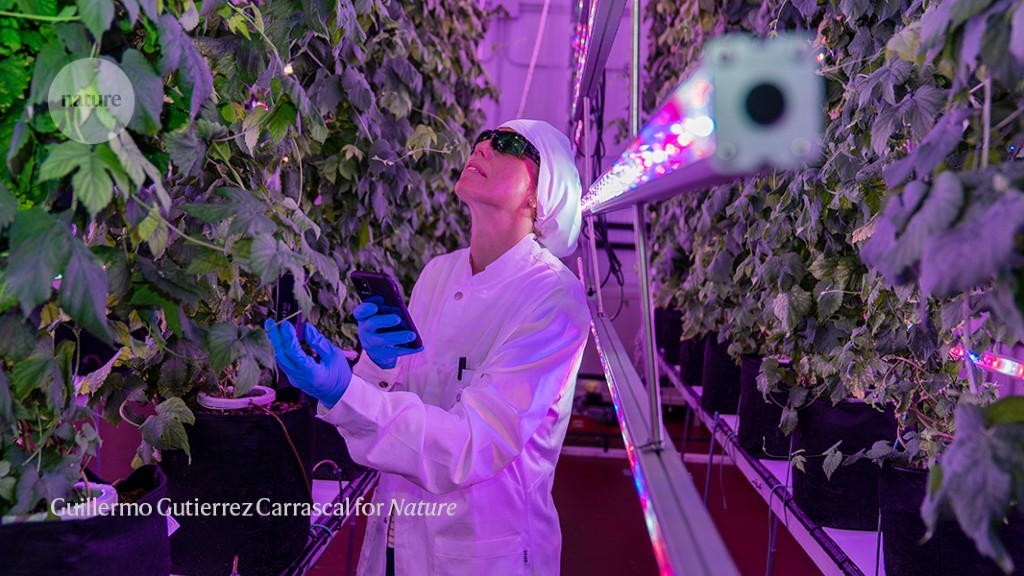 [ad_1]

On this image, I'm measuring the spectrum and depth of the sunshine in a room the place my firm, Ekonoke, is rising hops hydroponically. At our services, close to Madrid, now we have three rooms geared up with sensors that management lighting, temperature, humidity, carbon dioxide ranges and photosynthesis, amongst different components. As soon as every week, I manually verify the sensors to be sure that plant progress and density are heading in the right direction.
Ekonoke's sensors additionally alert us to any issues — reminiscent of a leak within the irrigation system — earlier than they have an effect on the crops.
Hops, the flower of the plant Humulus lupulus, are what provides beer its distinctive flavour. Rising them hydroponically means utilizing a minimal quantity of substrate for the roots. We additionally use a recirculating irrigation system that recycles many of the water we use to develop the crops.
I studied ecological agriculture at Wageningen College & Analysis within the Netherlands and, in 2016, launched Ekonoke with growth guide Inés Sagrario. We grew leafy greens that we bought on to clients. In 2020, we had been joined by folks with expertise in producing microgreens, and collectively we began testing indoor hydroponic hops.
This crop is in excessive demand worldwide however its high quality and amount are strongly affected by local weather and different variants. Right here, in our managed indoor system, we are able to obtain 4 yields a yr as an alternative of 1 — and with out utilizing pesticides.
This yr, we are going to transfer to a brand new indoor web site of 1,000 sq. metres in Galicia, within the north of Spain, to begin producing at business scale. We're establishing this facility in partnership with Hijos de Rivera, the Spanish firm that launched the beer Estrella Galicia greater than 100 years in the past.
Our collaboration's first fruit — 'Respect!', a restricted version of a beer produced totally with our hydroponically grown Humulus — got here out in July. It's the world's first beer to be made completely with indoor hops.
[ad_2]